Originally posted as What's New in Shortcuts? Issue 30 – sign up for the newsletter here.
Hello folks,
Next Tuesday, Apple will be hosting a "Spring Foward" event – and we'll likely see iOS 14.5 come out alongside anything new.
With that, we'll get three new actions in Shortcuts:
Set Orientation Lock
Set Voice and Data
Take Screenshot
Below, I've got a few shortcuts you can use to take advantage of those, plus a few links from the community:
🆕 NEW FROM ME THIS WEEK
The new actions in iOS 14.5 are a bit odd to implement at first, but here's some ideas for you:
Coming next week for members: a complete Screenshots workflow + a stream to walk you through setting it all up!
🔗 LINKS SINCE LAST TIME
This week we've got new actions in Toolbox Pro, a way to use Automations to read more, and how to analyze website data on iOS:
New media actions in Toolbox Pro
I forgot to link to this when it came out, but Shortcuts power user app Toolbox Pro has added new actions for finding rich media results for Movies, TV, Books, & Games – download the app and unlock all the actions for $5.99.
App Automations for Mindfulness
Joseph Lam has shared a great Automation tip on Twitter – he has an App automation set for multiple apps like Twitter and YouTube that, when opened, will prompt him to potential choose to read instead – if so it opens Books, and otherwise does nothing. I love these kinds of mindfulness shortcuts, as they can provide gentle nudges towards better behavior (especially when you're the one choosing to set it up).
Website analytics in Shortcuts form
Anders Borum has an awesome solution for combining his app Shellfish along with Scriptable and Charty to create a shortcut that pulls logs from your website, processes the data, and charts it so you can track sources of where people have visited – check out the shortcut to see how the JavaScript works as well as the connections between apps.
📲 SHORTCUTS SPOTLIGHT
Getting the Contents of Communication automations
Did you know that with Shortcuts' newest Automations–Email and Messages–you can use the Shortcut Input variable to retrieve the contents of the email and message?
While the Automations do not run in the background without asking, you can set up Automations that will ask when the message is received and, when run from the notification, can extract the body of the communication.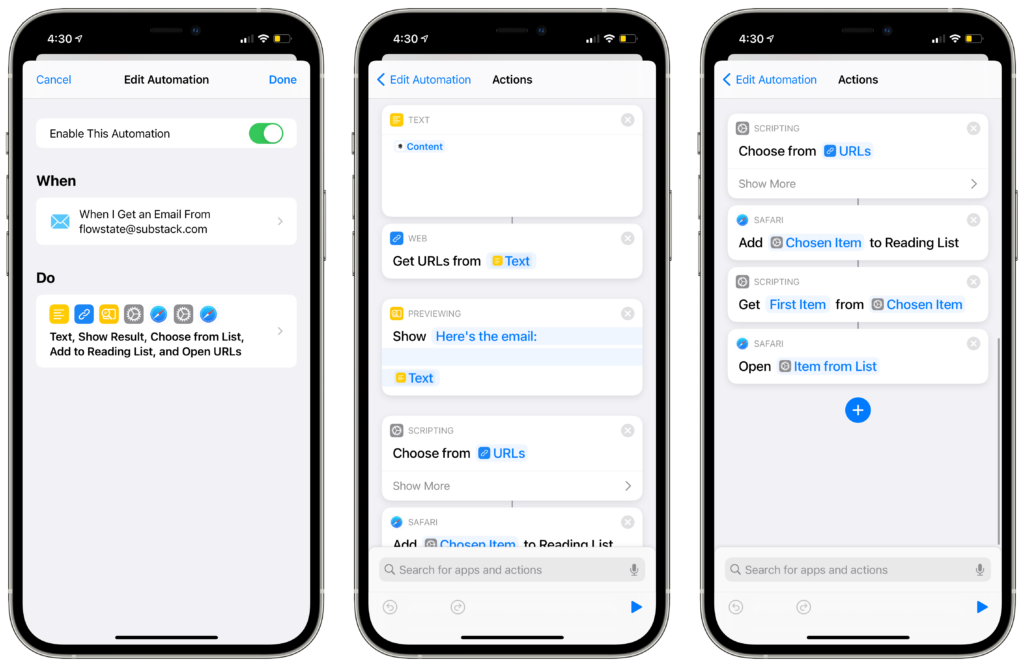 I've set this up as an example with a daily email I get called Flow State, which provides links to a new artist or newly-curated music every day – my automation shows the body of the email quickly in a prompt, then presents the links for me to both save to Reading List as well as open the first in the bunch.
That way, when the email comes in, I can quickly read about the new music, then save only the links to Apple Music out of the bunch, as well as open the first option to listen to right away.
Read about "Communication triggers" in the Shortcuts User Guide.